Our Soft-logic electronic queue is completely standalone software that effectively solves the problems of managing customer flows in various business areas.
From an architectural point of view solution uses single server to configure processes, connect, manage, maintain statistics, report on hardware devices and employees across all branches. The system can be operated in a completely closed circuit of company. Internet access is required only for speech synthesis services.
The complex includes ticket kiosks for receiving tickets, electronic displays for displaying information about the queue, front office (operator's workstations) for processing customer requests within the electronic queue and back office for managing all devices, establishing branches, employees and determining types of processed queues by them.
At this press release we want to tell more about the back office capabilities and illustrate how the system works.
Main screen
Contains visual representation of statistical data for the selected period on the number of processed clients between employees, the average service time, the average number of clients per employee and the number of clients per hour. The screen allows to quickly assess the efficiency of the entire electronic queue.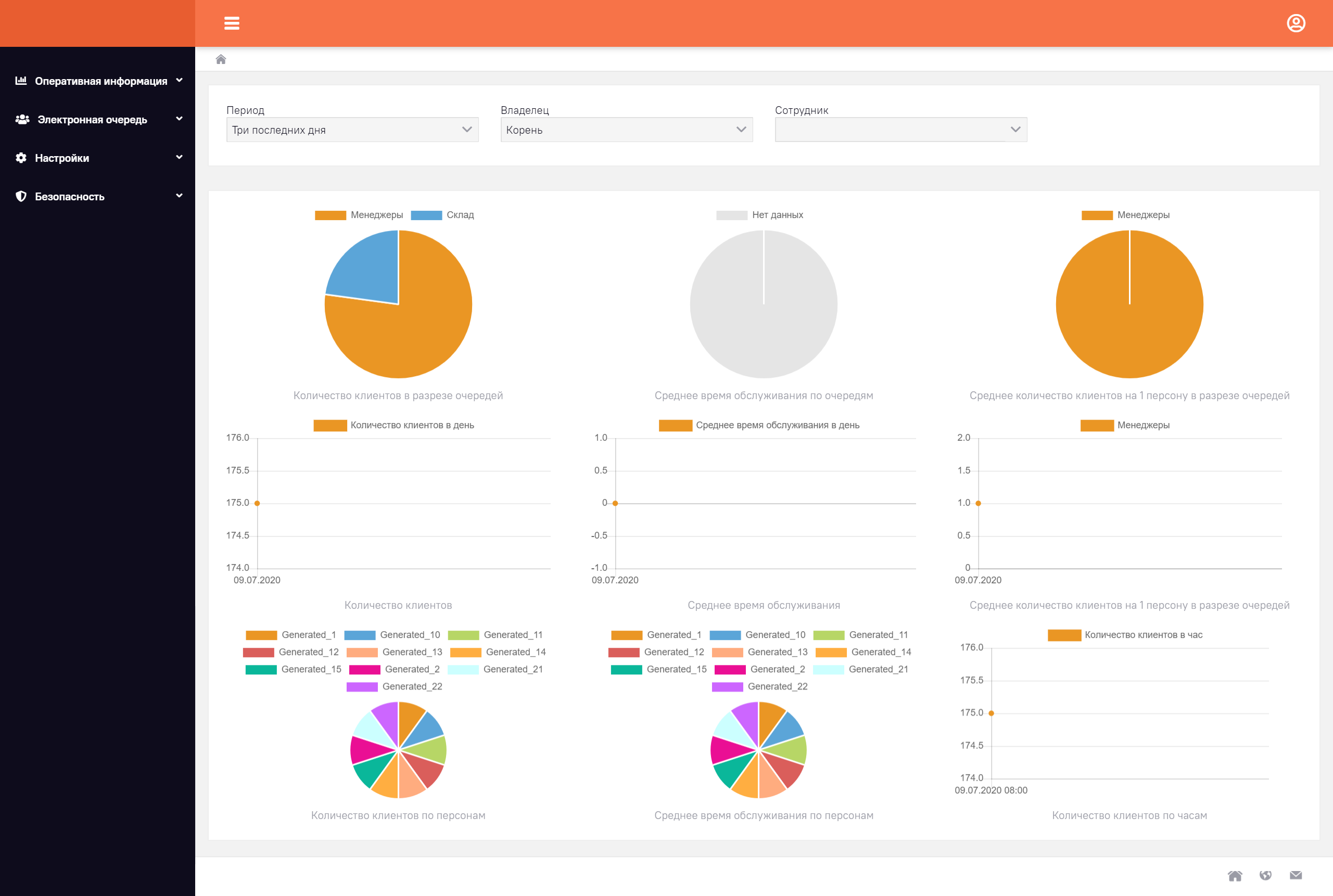 Organization settings
The section is used to add and edit organizations, linking branches to higher offices (parents) to build a hierarchy and then allocate devices and employees between them.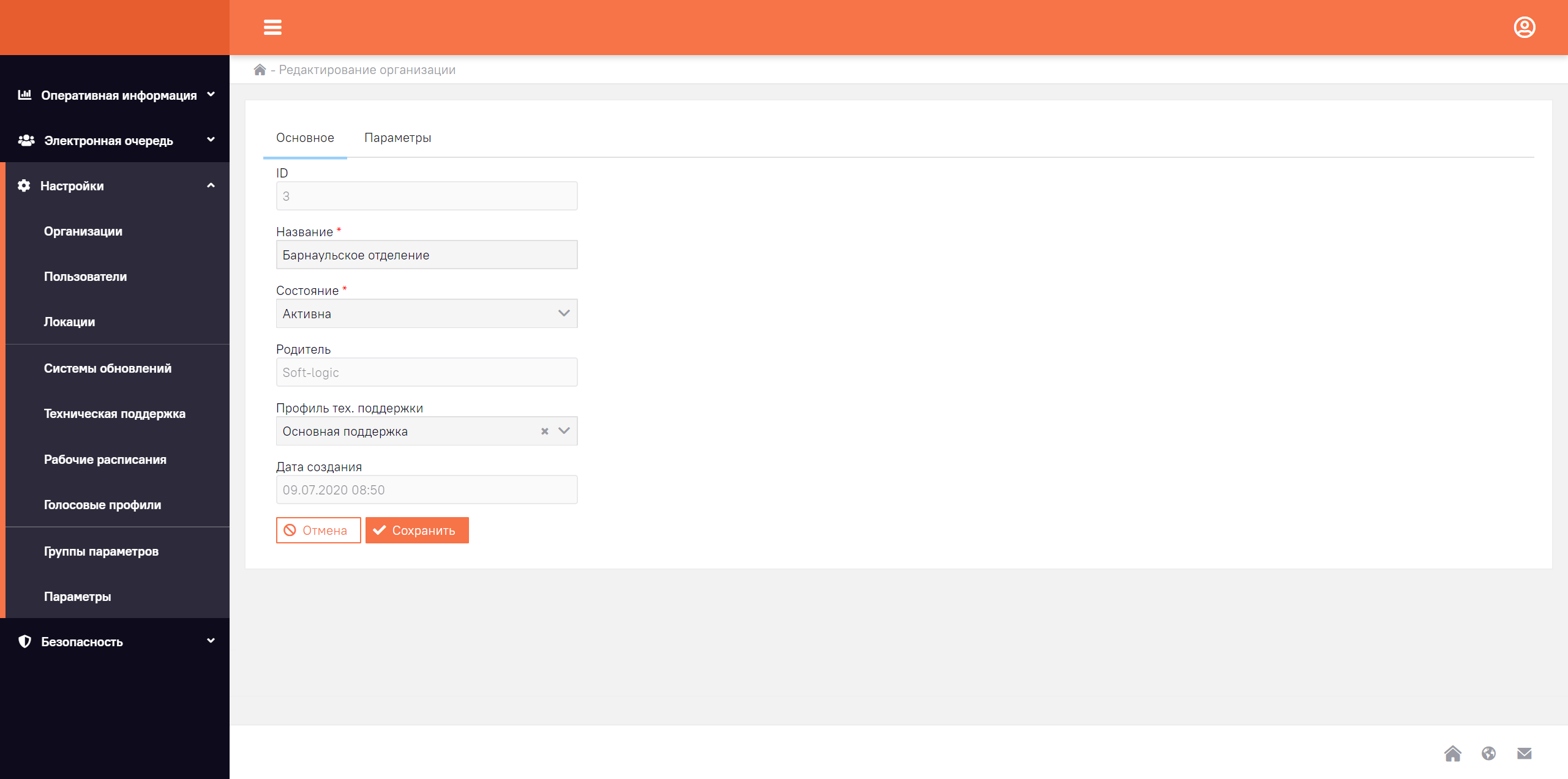 Employees settings
The section allows to view and add employees with linking to branches.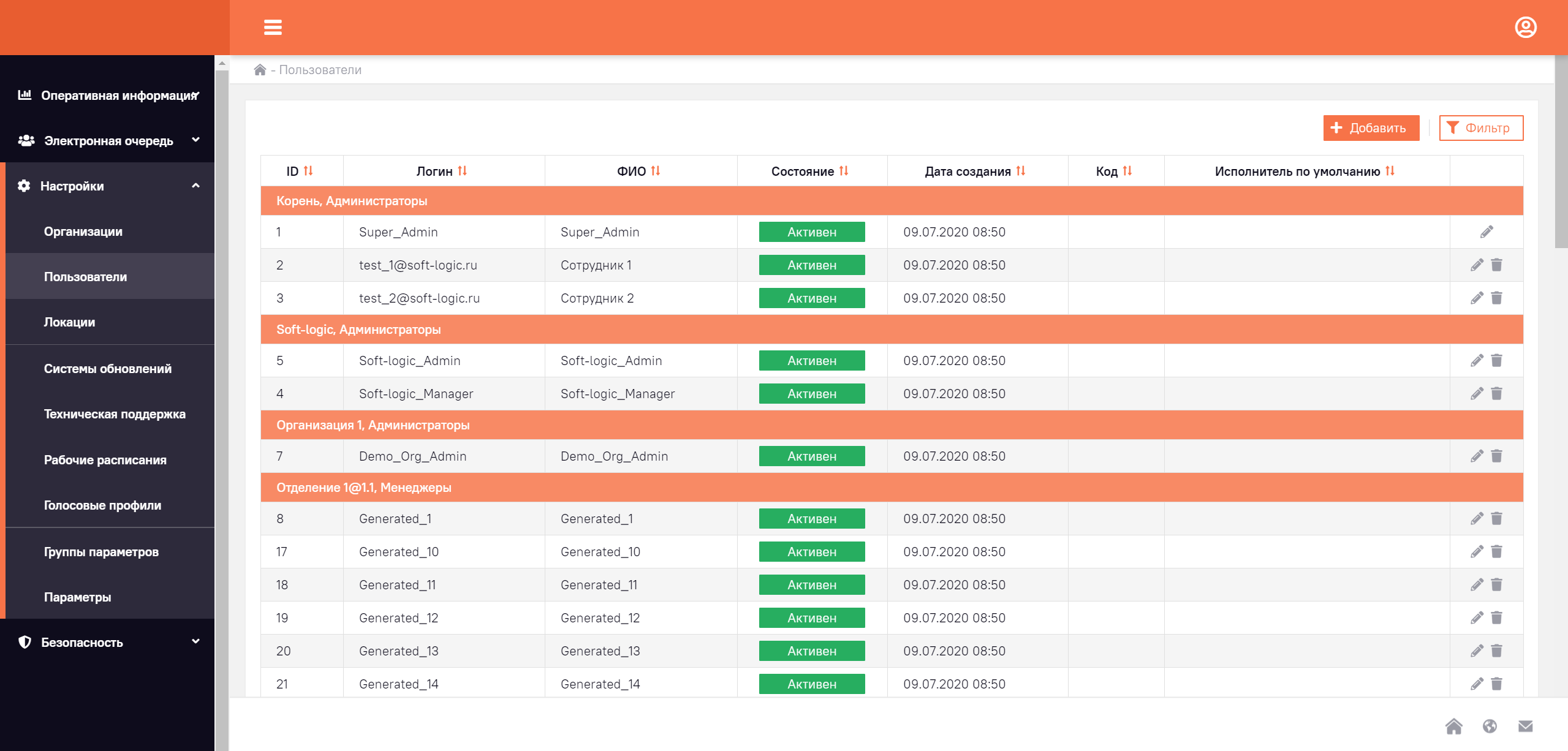 The section for adding includes specifying the queue profile that employee plans to process, branch in which the employee will work and data for authorization at the workplace.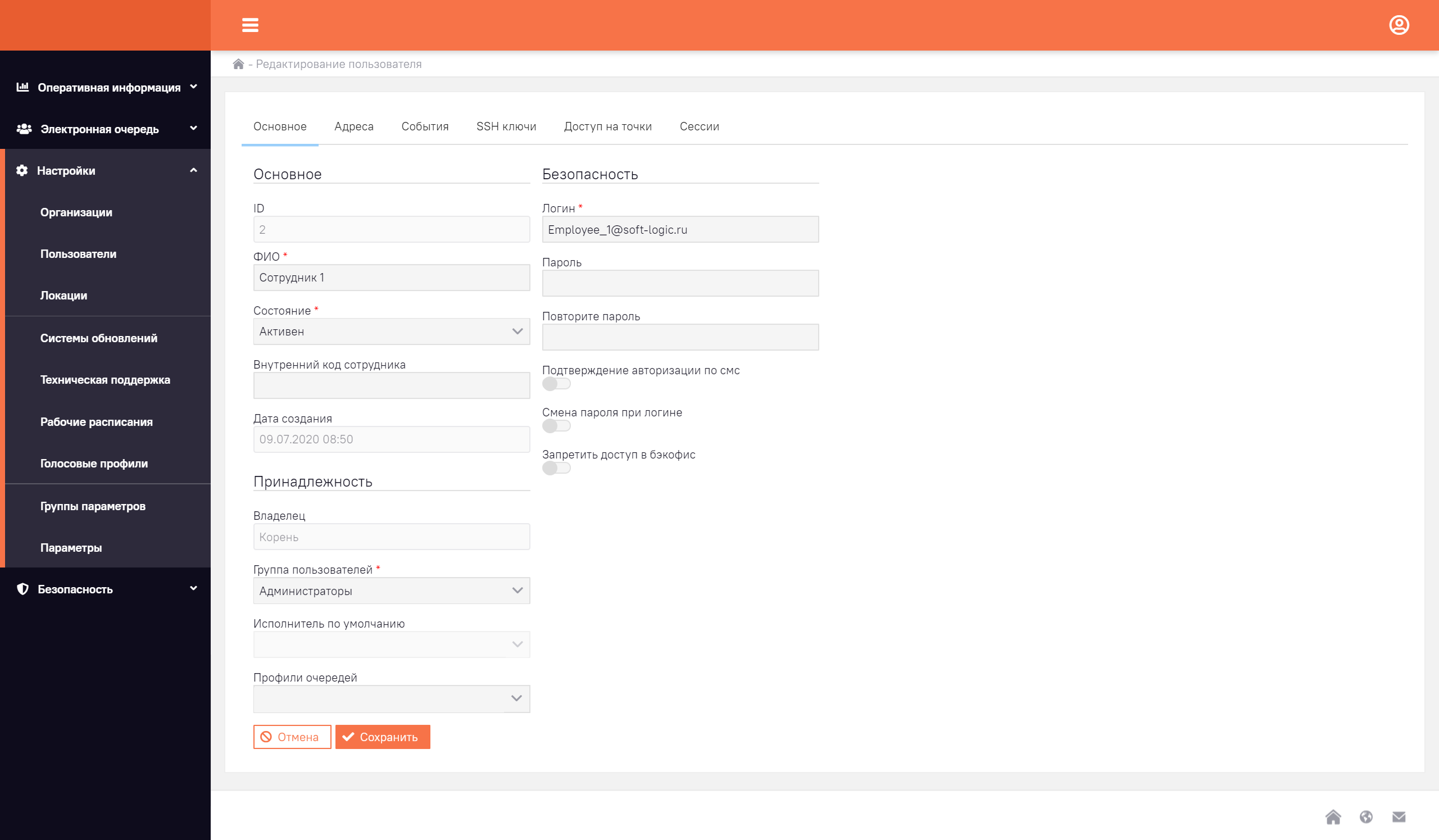 Additionally, it is possible to view events, sessions, conditions of access to the workplace, specify an e-mail address for sending notifications about employee actions.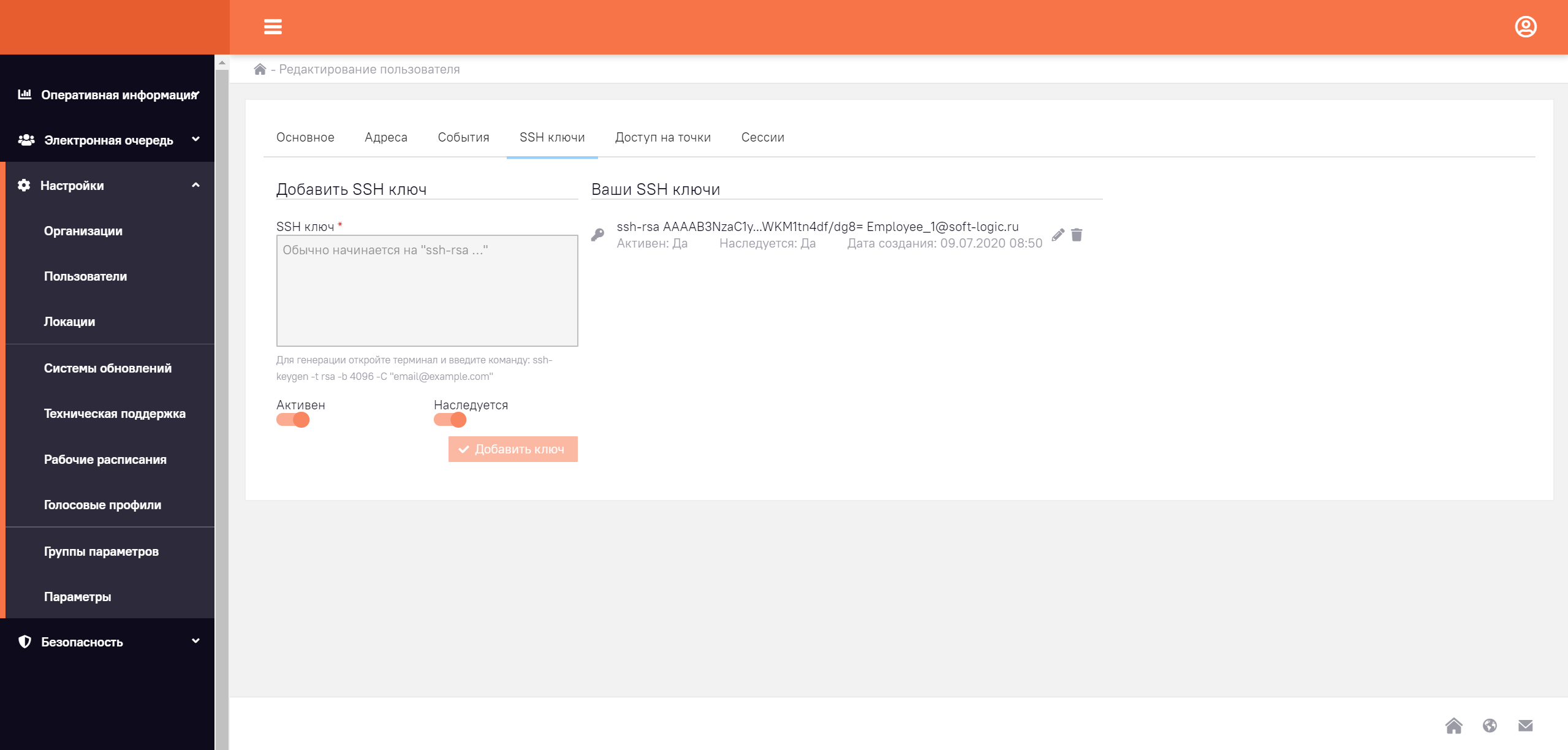 Locations and work schedule settings
Sections allow to create locations to which will be linked performers (employees), ticket kiosks and information displays. For convenient location address search we have implemented integration with OpenStreetMap service — in addition, it is possible to search for location by address and by geographic coordinates.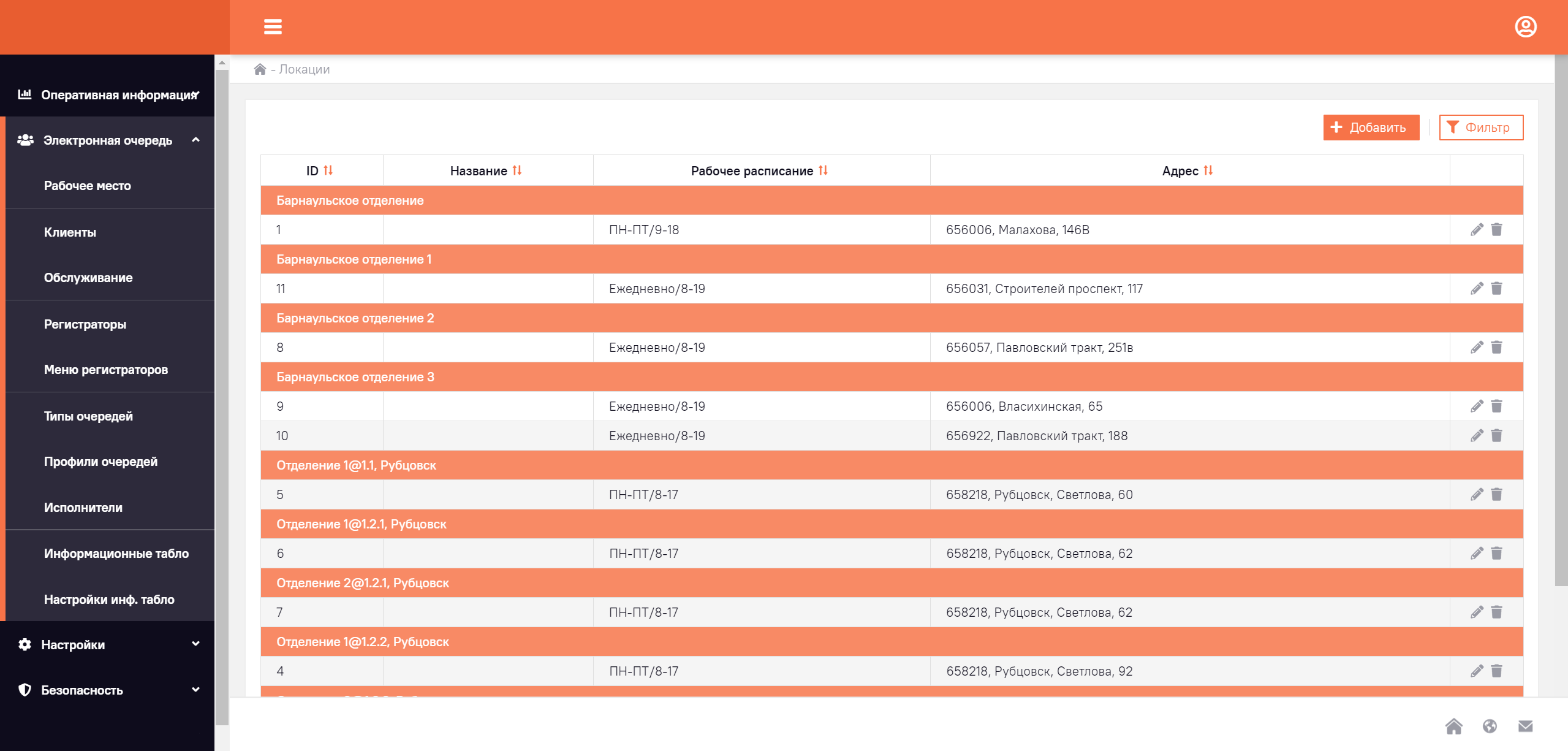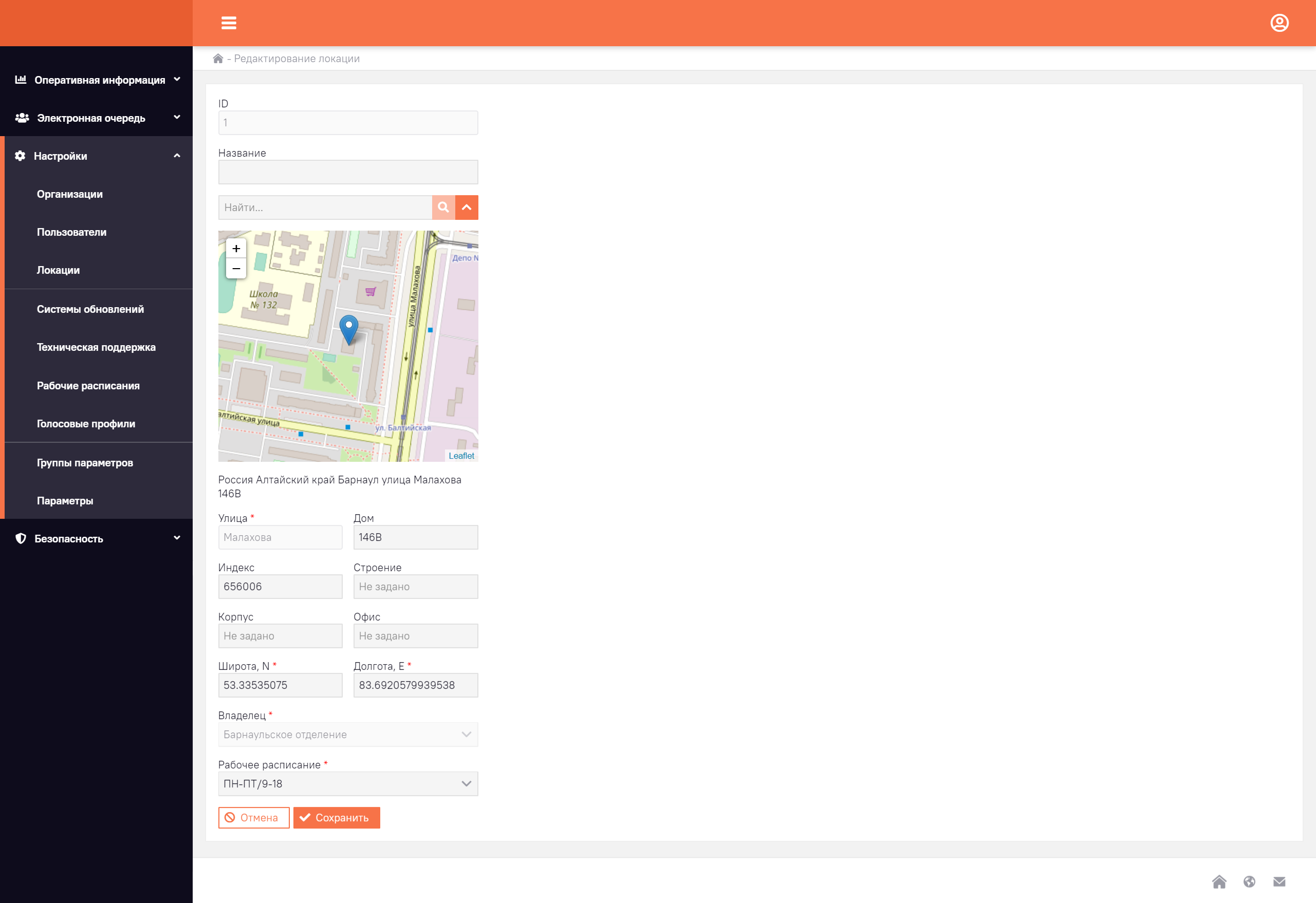 A work schedule is also configured, which is subsequently linked to branches.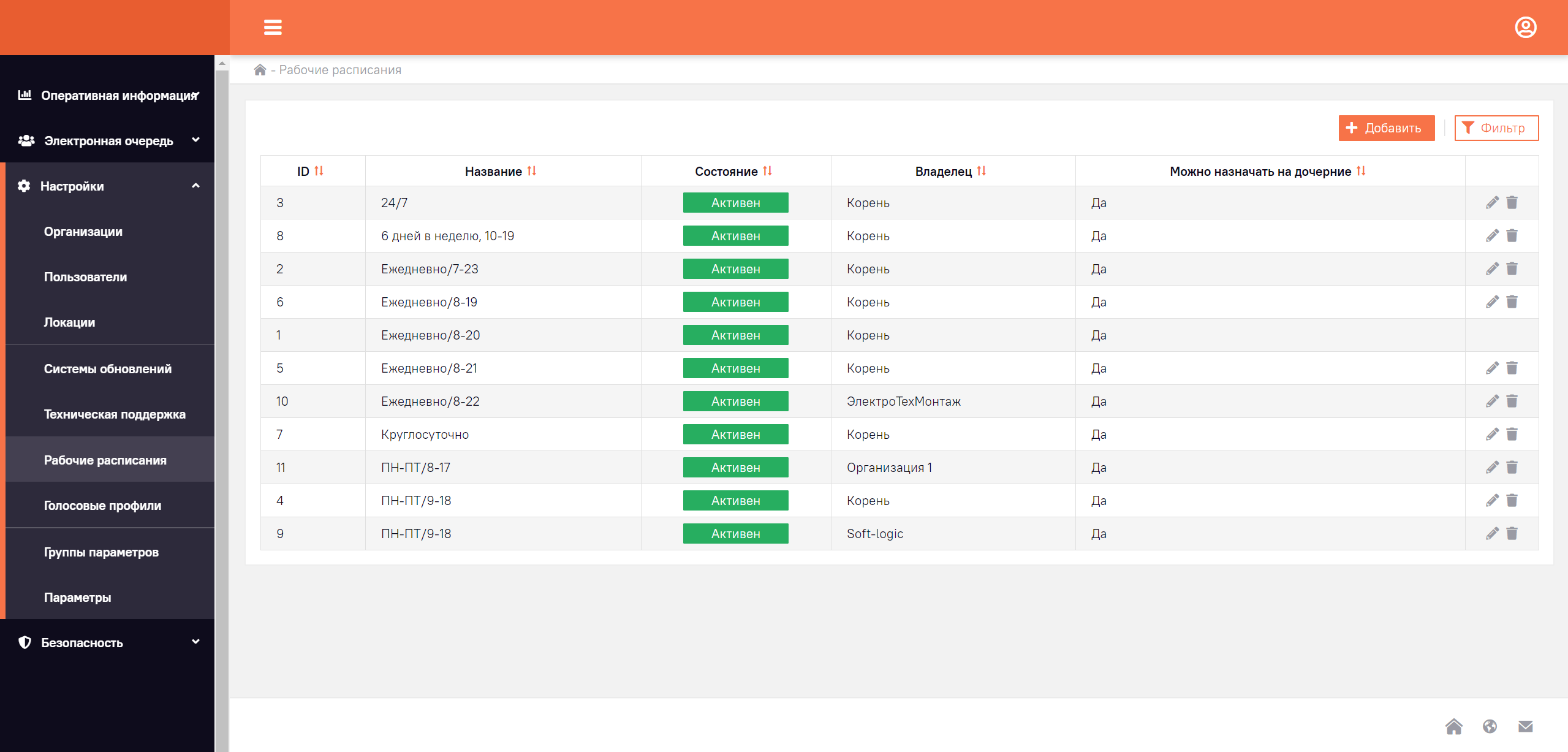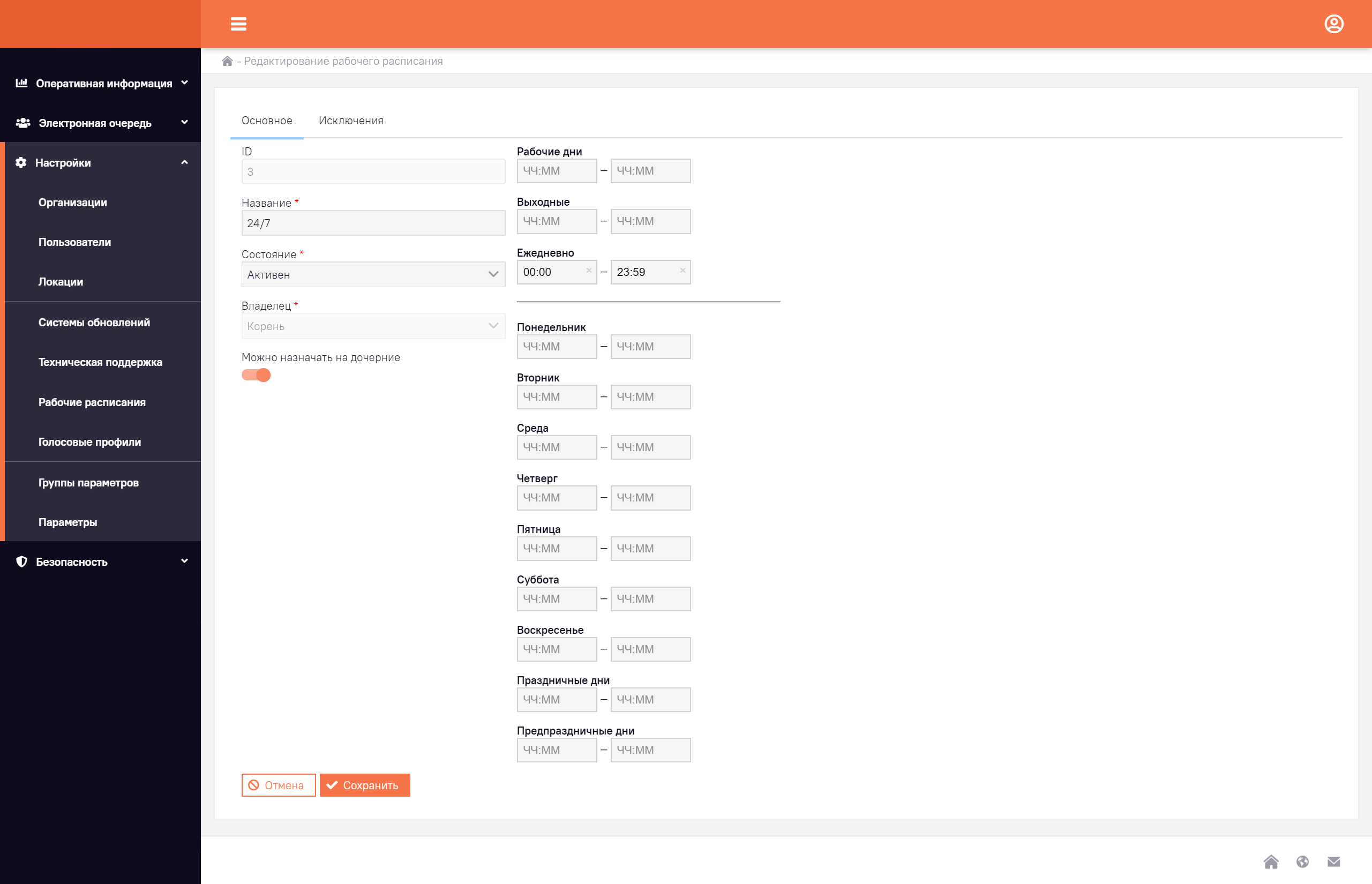 Customers and service process
The section allows to track the entire process of working with the queue. Clients are presented clearly, their ticket numbers linked to their ticket kiosks, directions to queue types, as well as executors (managers). Additional comments for each client, left by managers and contact numbers of clients are also displayed.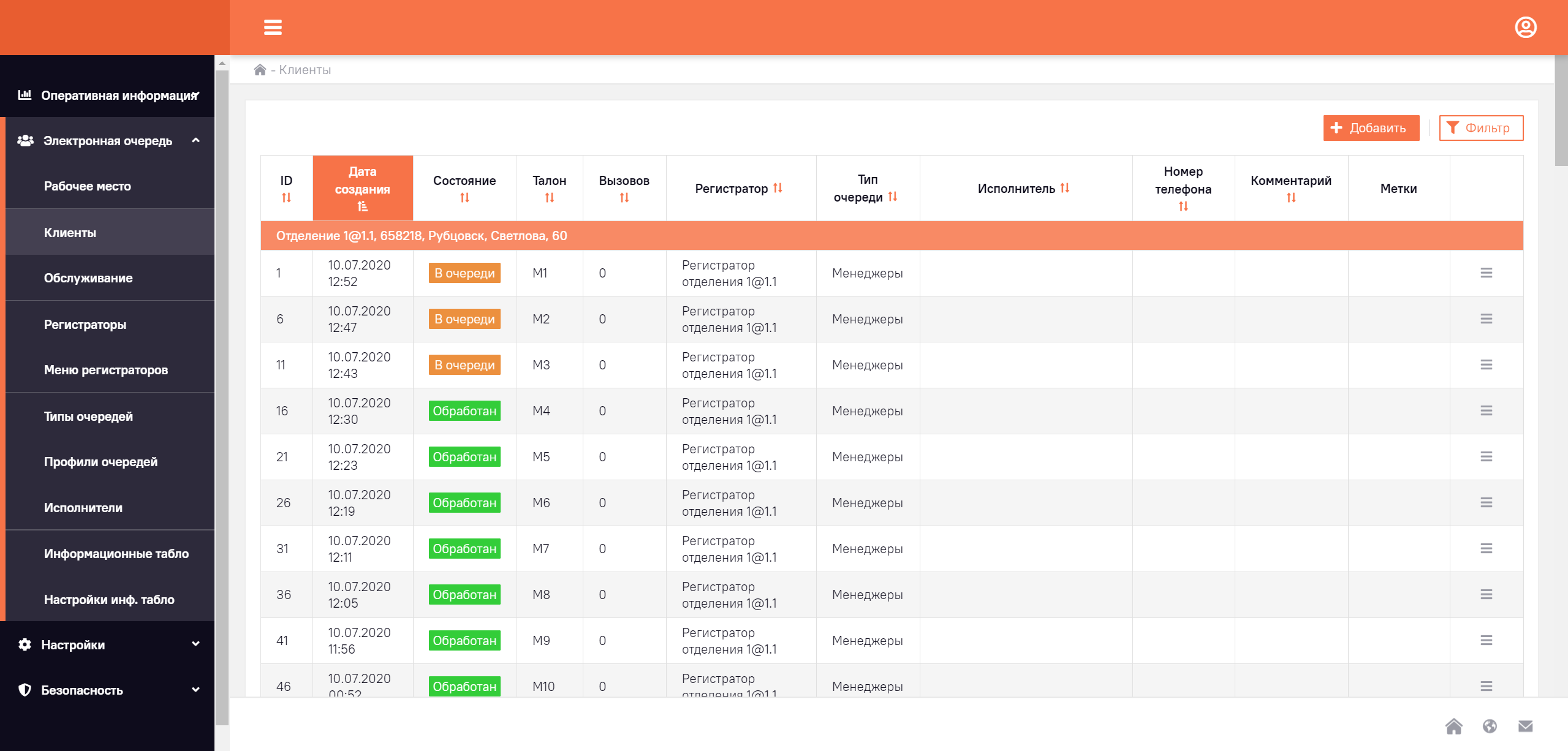 Ticket kiosks, menu settings
This section contains data on all ticket kiosks in the system. Allows to add and configure new devices, add services (buttons for receiving tickets) to the screen menu and specify the types of queues for them.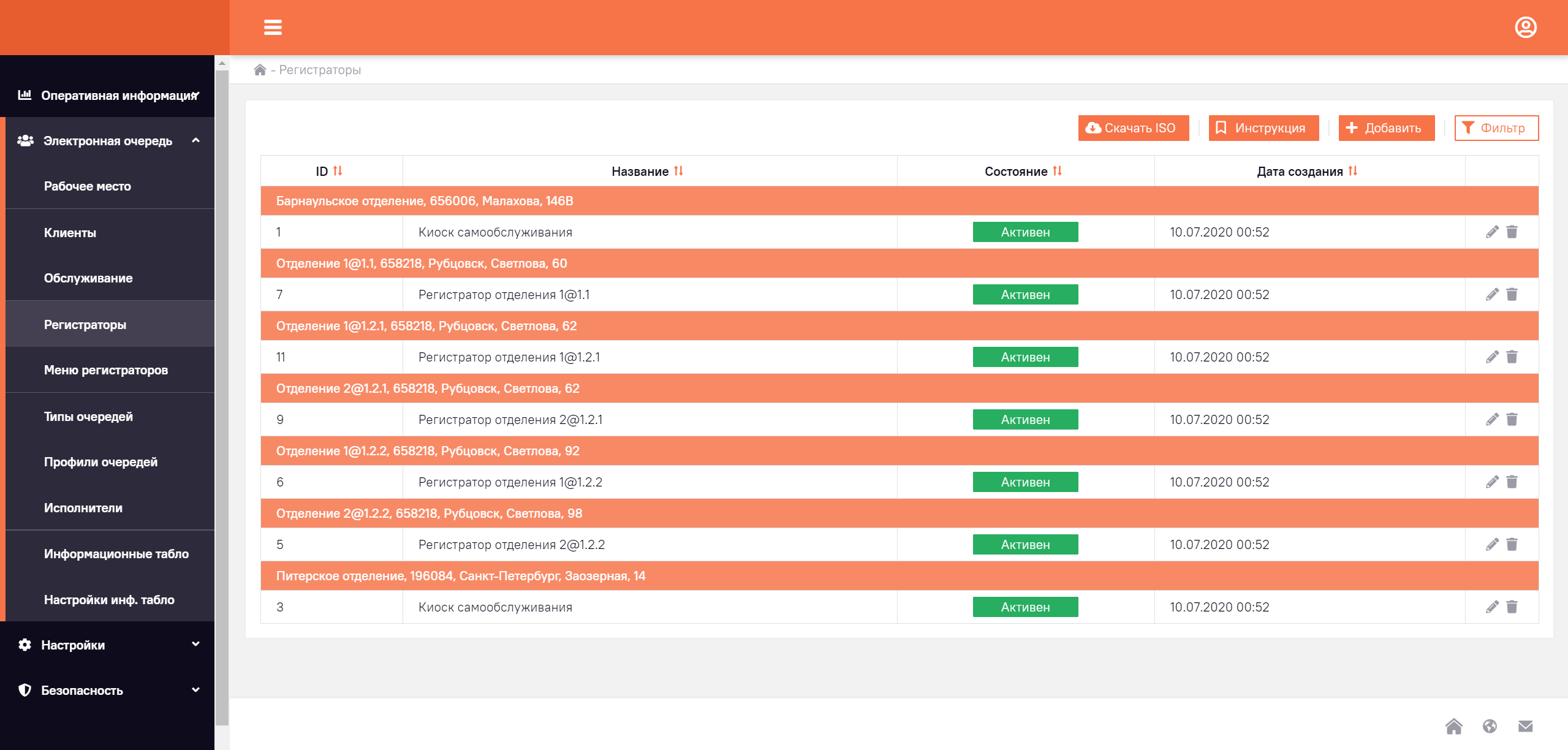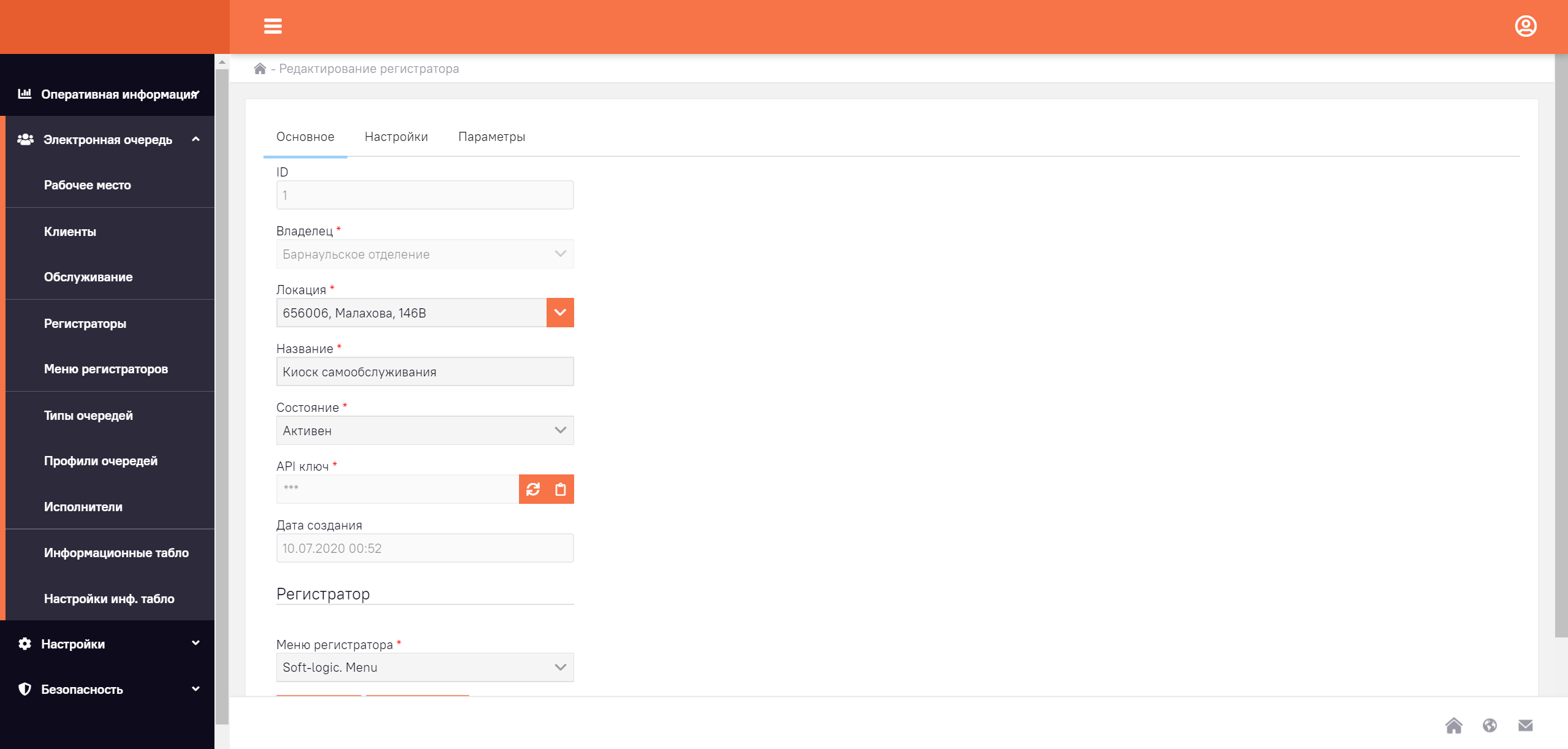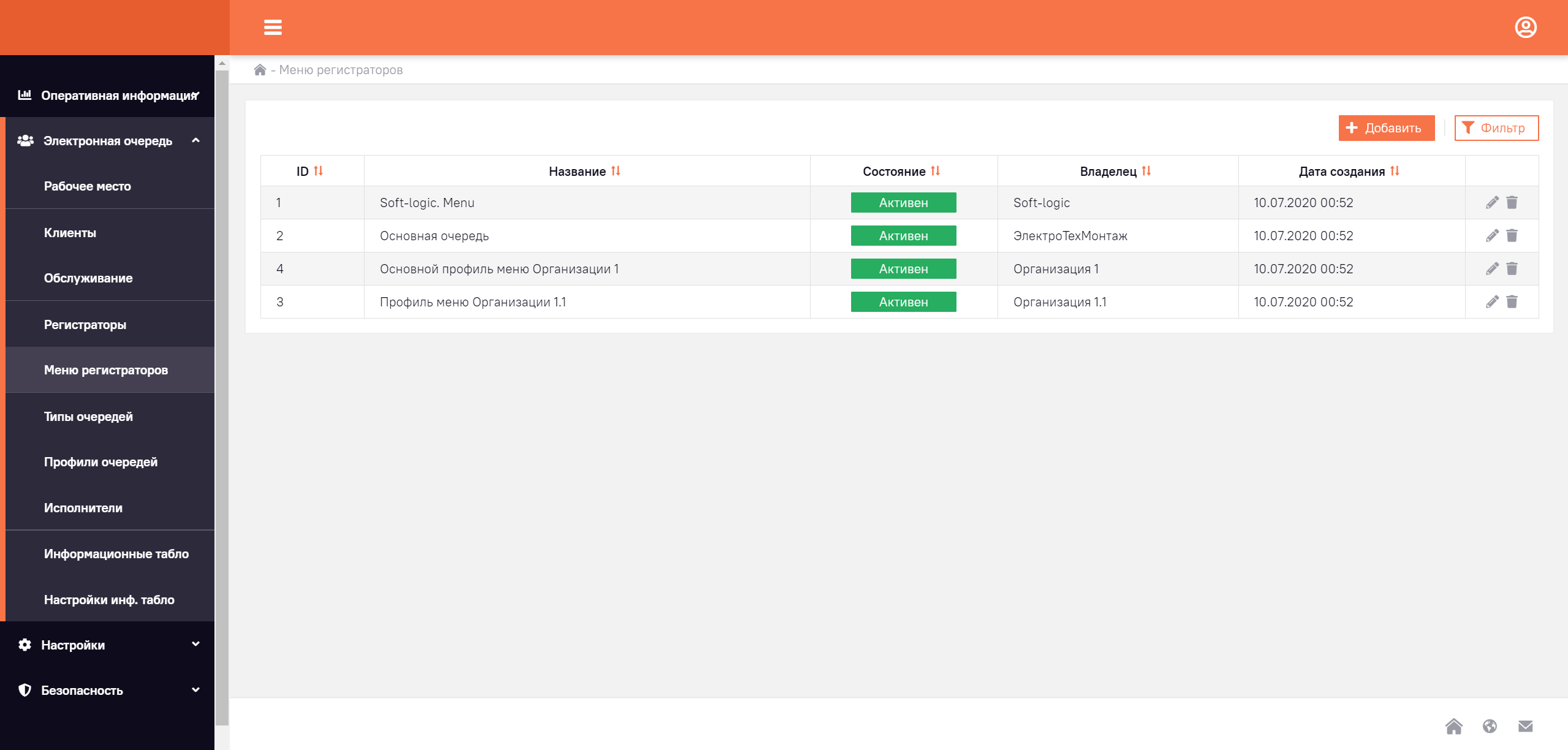 Setting up a menu for customers to select services at ticket kiosks. It is possible to set access for select a personal manager within the queue, buttons order, bind an icon and add description.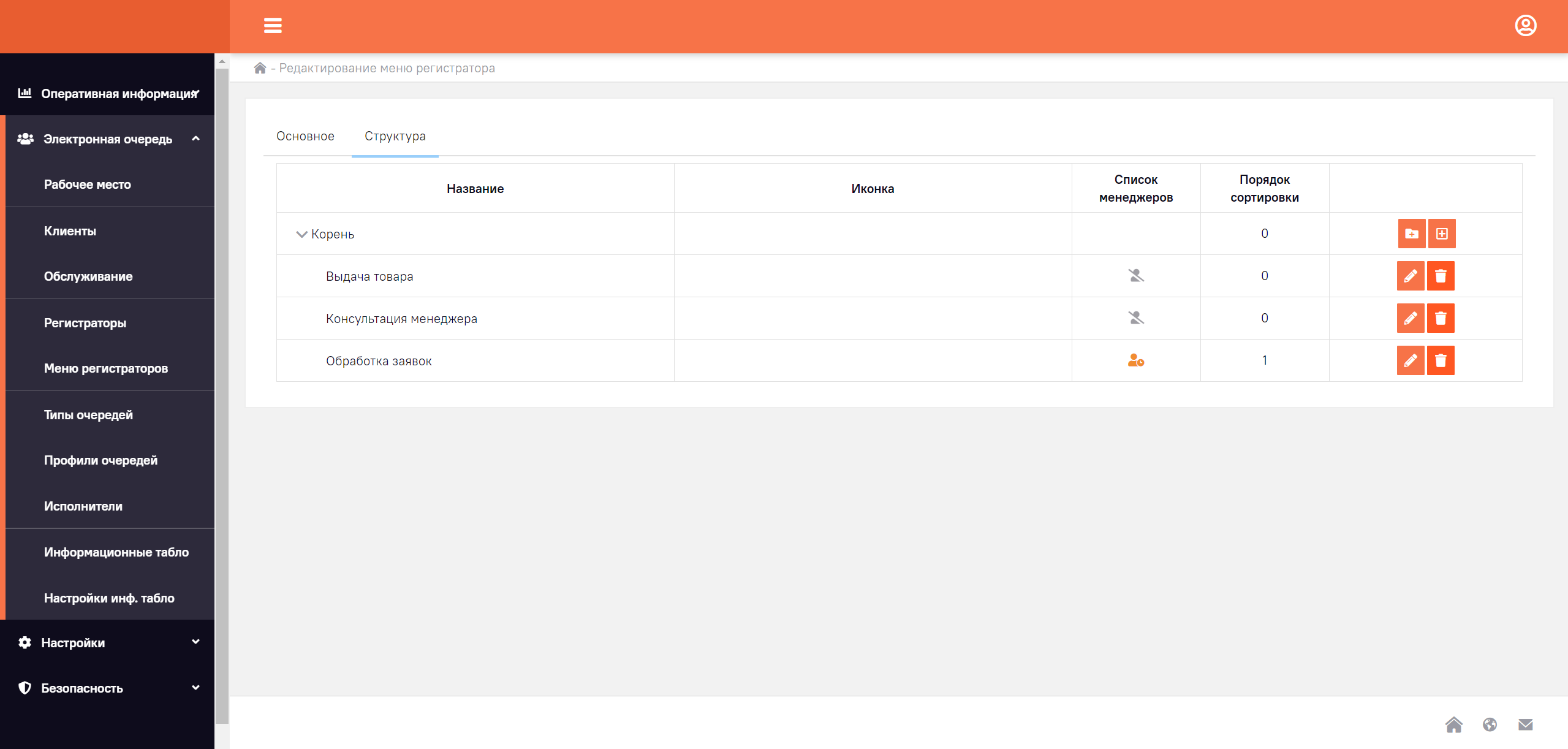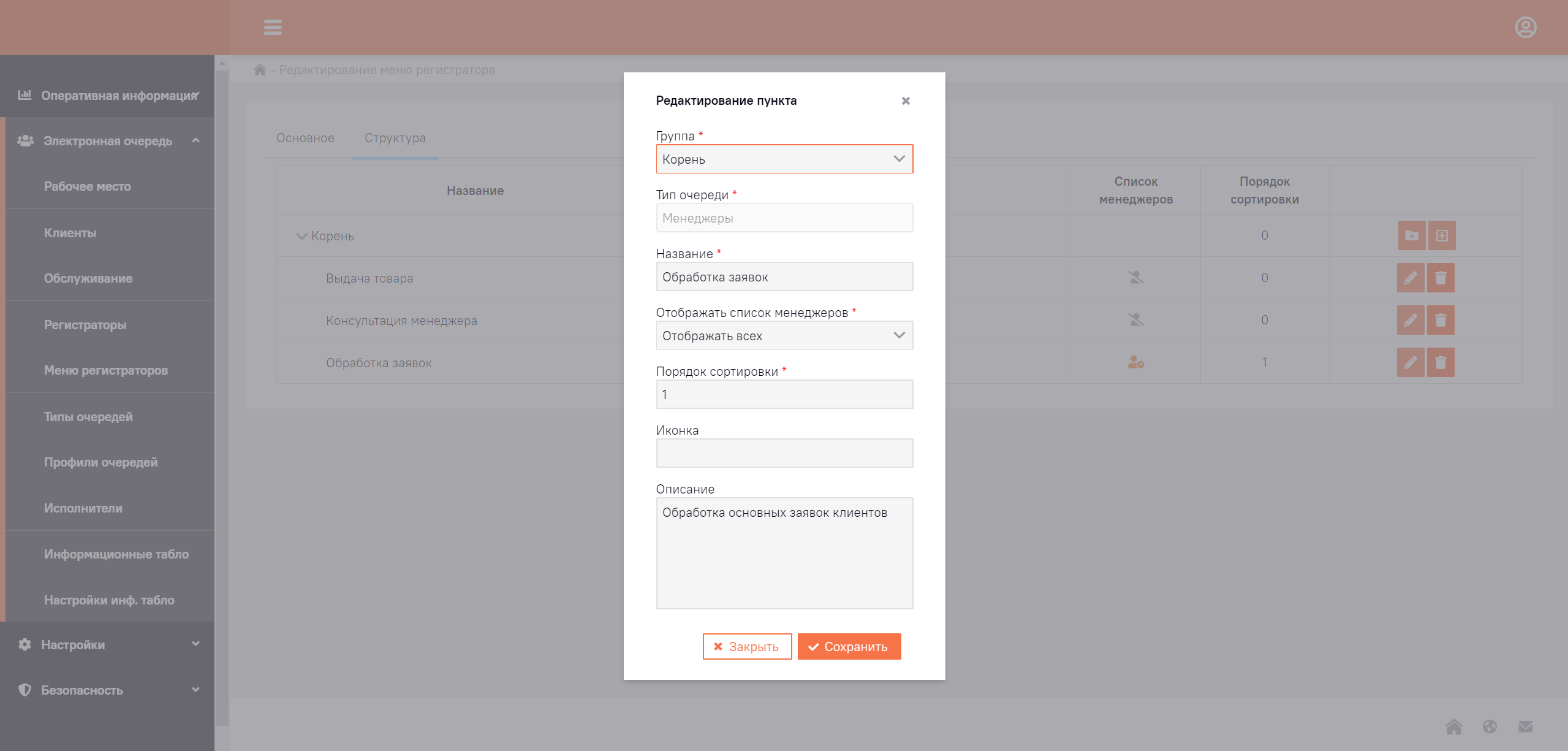 Queue types configuration
Queue profiles are used for connetion between queues and executors that serve customers. On their basis, directions for processing applications by managers at workplaces are created, tickets with prefixes are dispensed.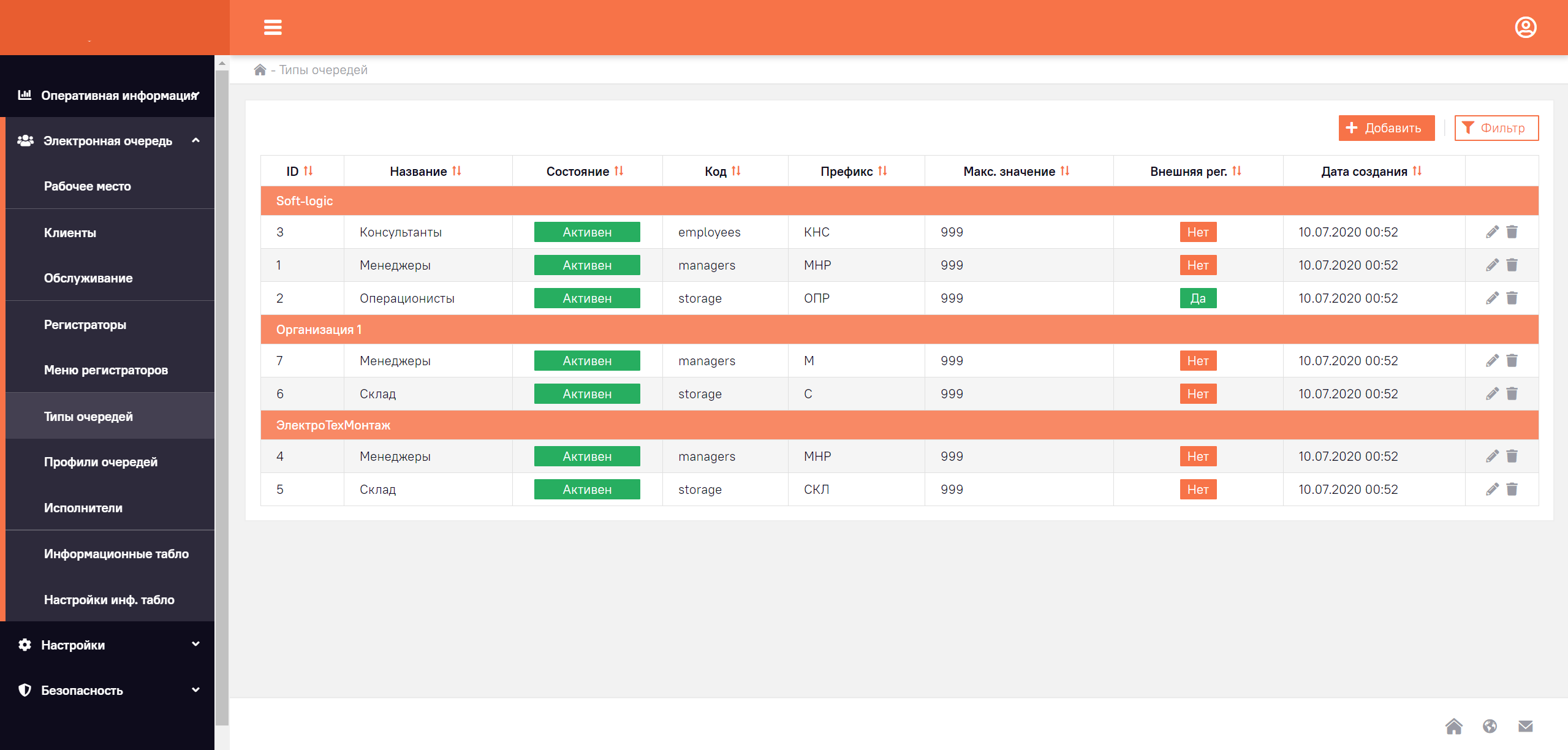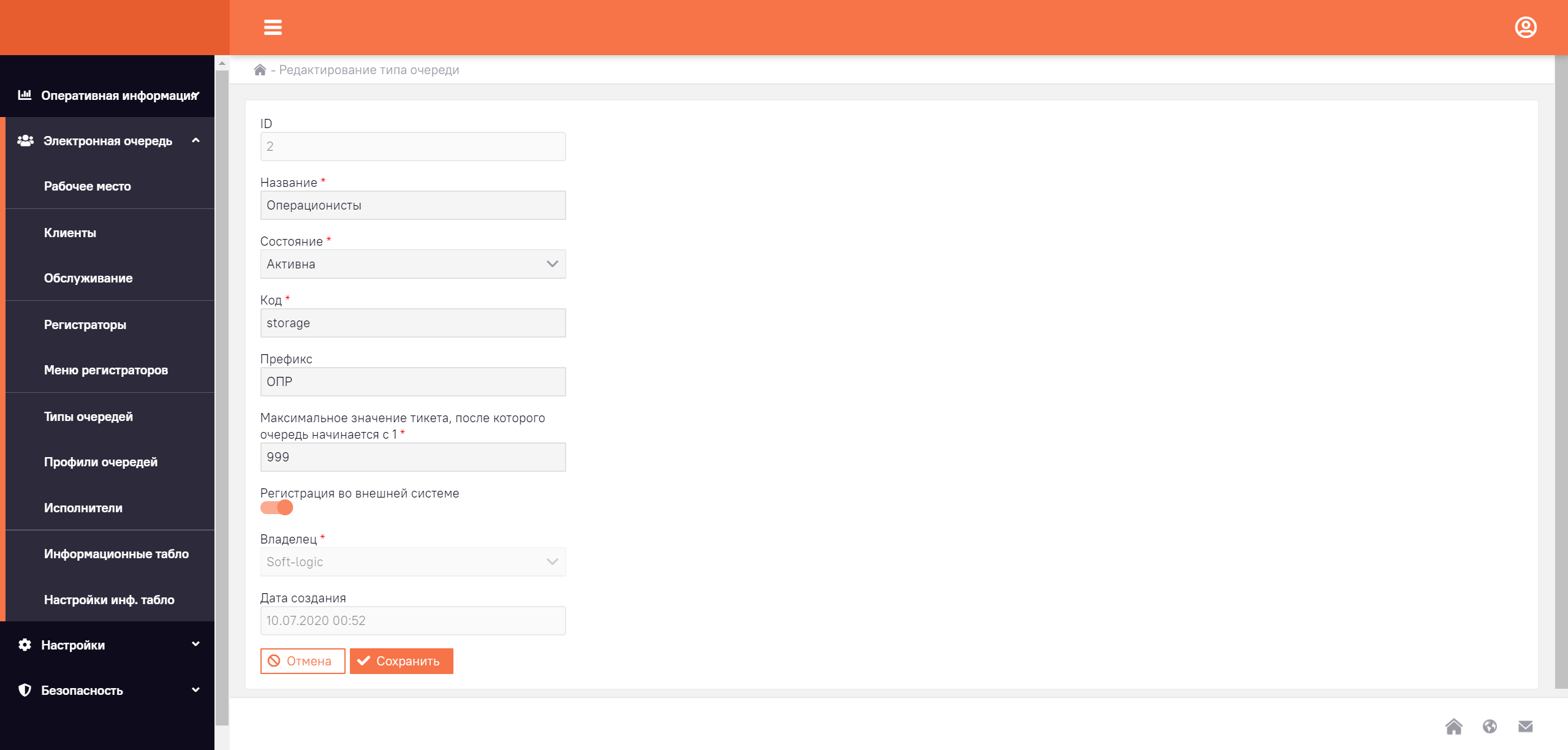 Executors
Employees added into the system with link to departments and the assigned type of processed queues (provided services).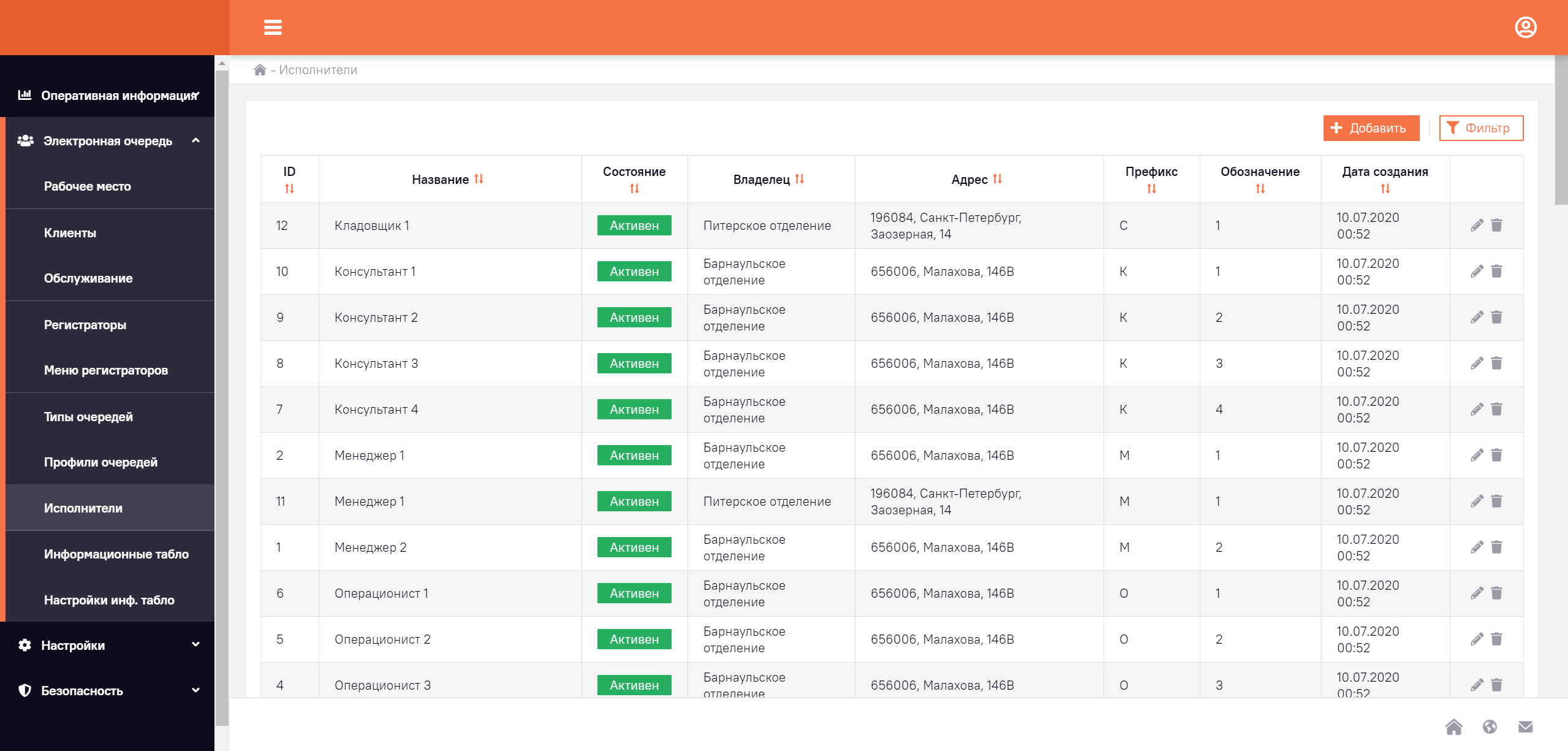 Information displays
Section is used to add electronic displays that are used to visually inform customers about queue. Available selection of layouts and customization of the texts color, headers, background, logo display. At the same time system allows to flexibly customize the display of the customers with reference to their status. Therefore it is possible to implement any scenarios equally adaptable, for example, for retail or fast food.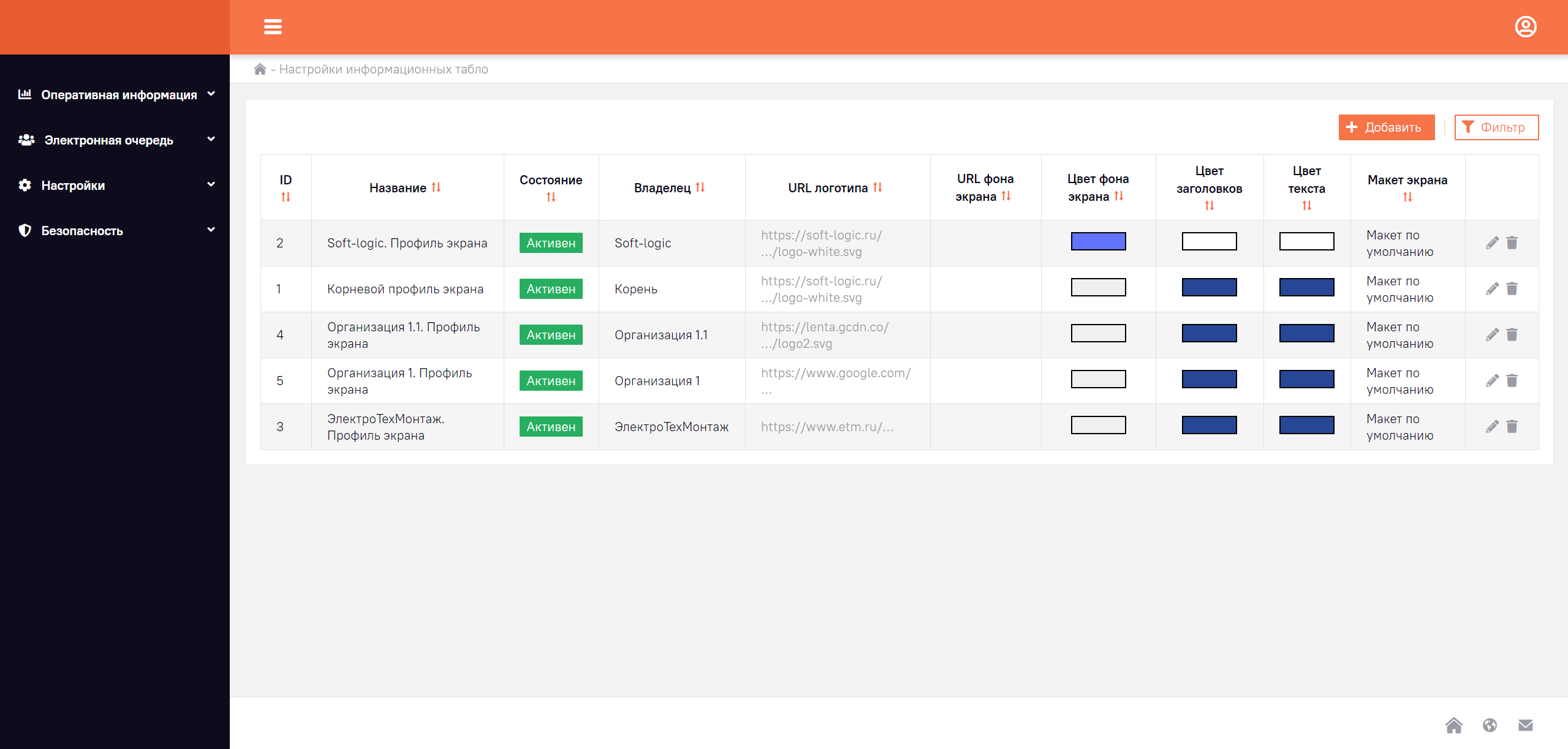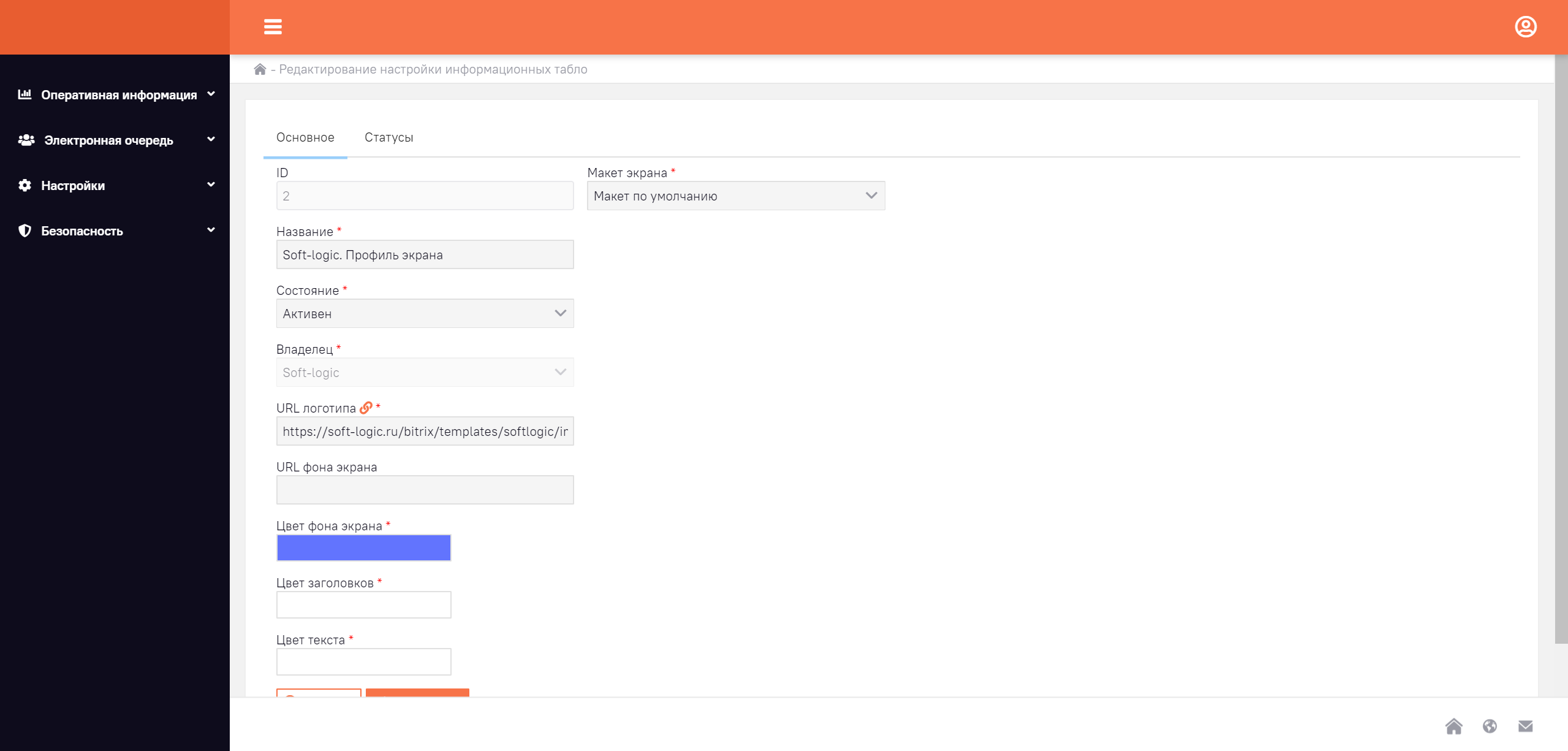 Voice profiles (based on speech synthesis service)
Setting up voice notifications within the system. It is possible to add profiles, as well as customize templates for voice notifications based on Google Cloud Text-to-Speech.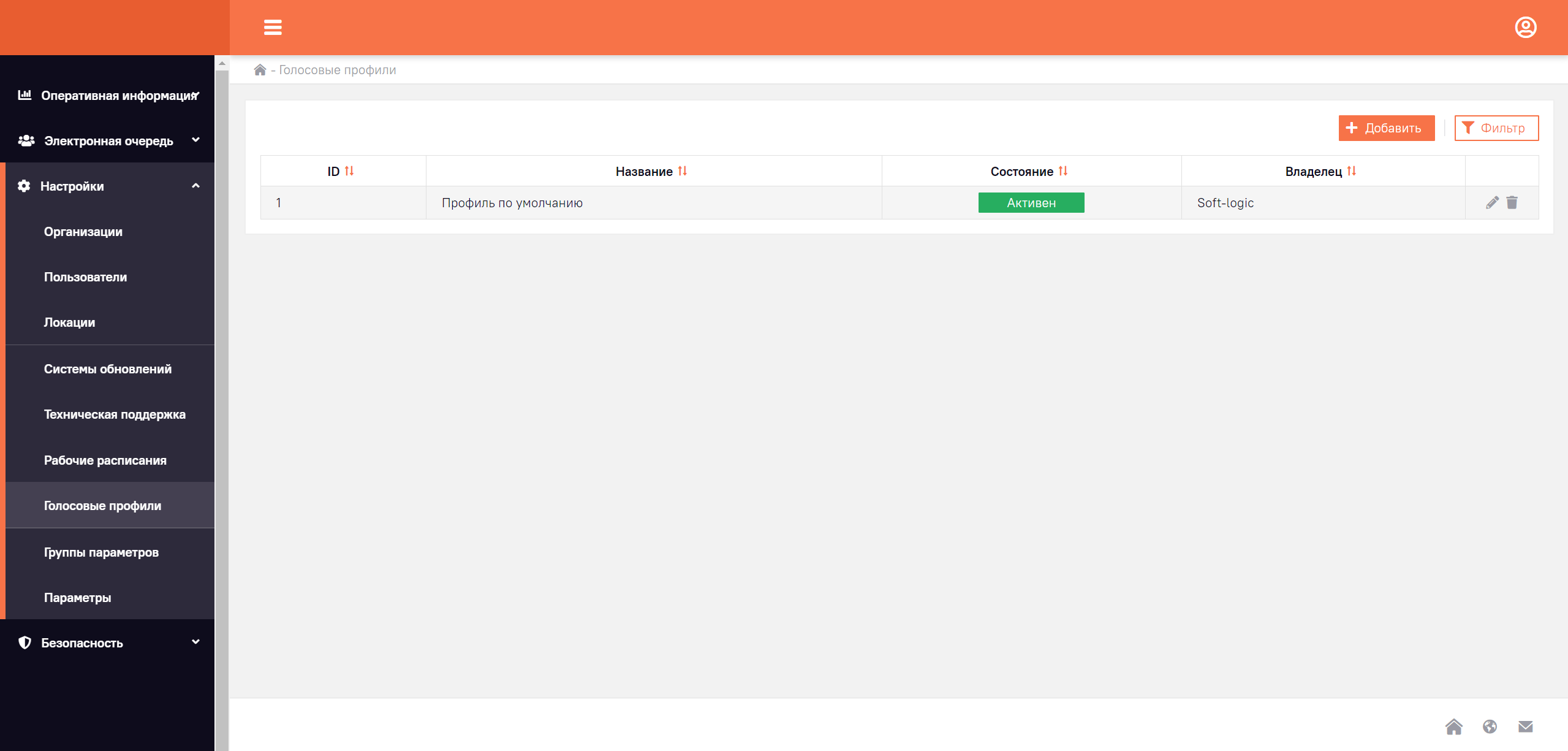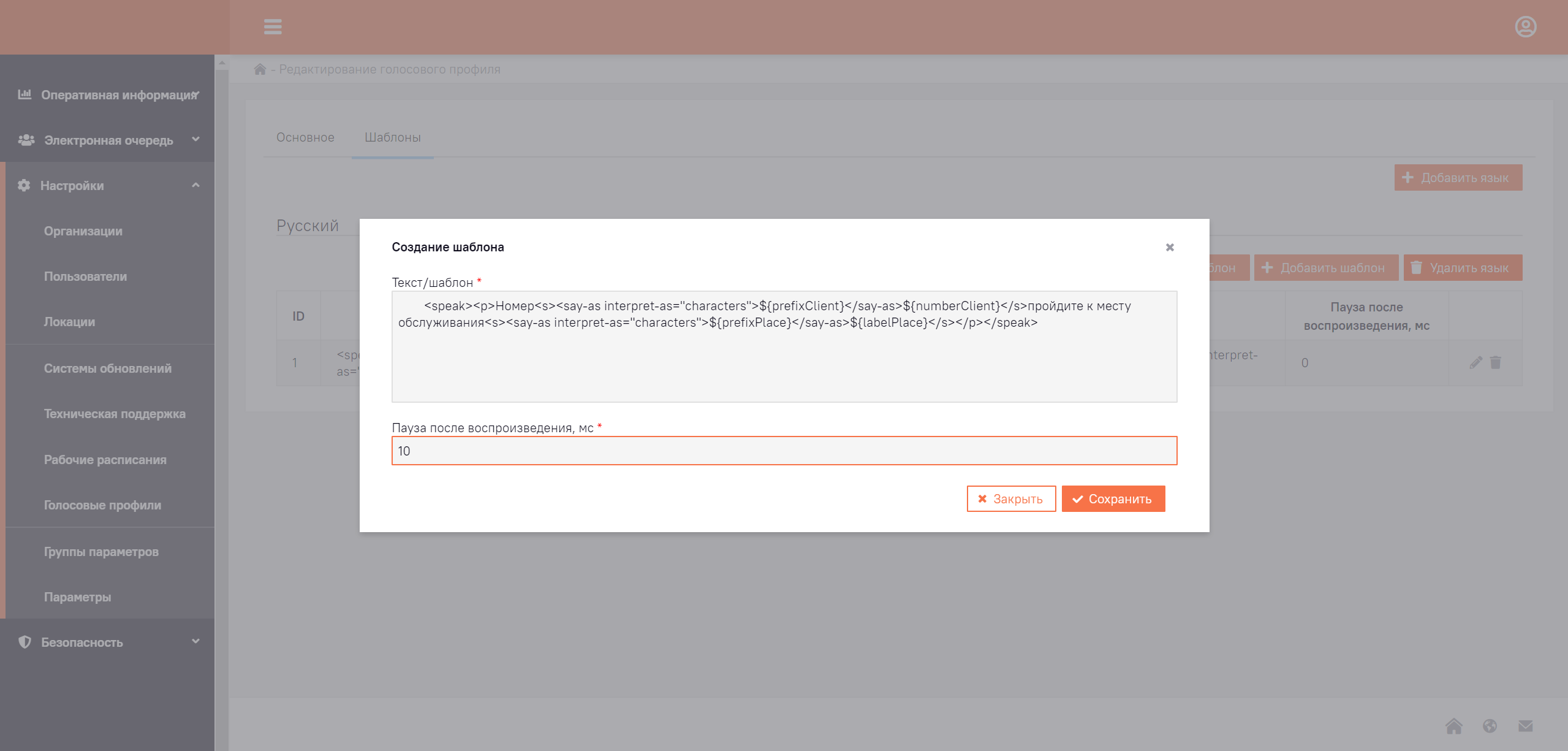 Using speech synthesis allows to completely refuse the services of professional speakers, reduces the cost of ownership and system maintenance and also allows to quickly and flexibly make changes of the voice announcements.
Result
Employee sign in through the web browser, chooses his workplace and profile, taking into account the parameters specified in the back office.
Since our solution is a web-oriented application, it involves the use of an electronic queue on any device — tablet, smartphone or PC (which is impossible when using stationary programs, for example, based on 1C, which physically tie manager to the workplace). The employee becomes fully mobile, can move with tablet or smartphone, at the same time work with the queue and advise clients in the service area.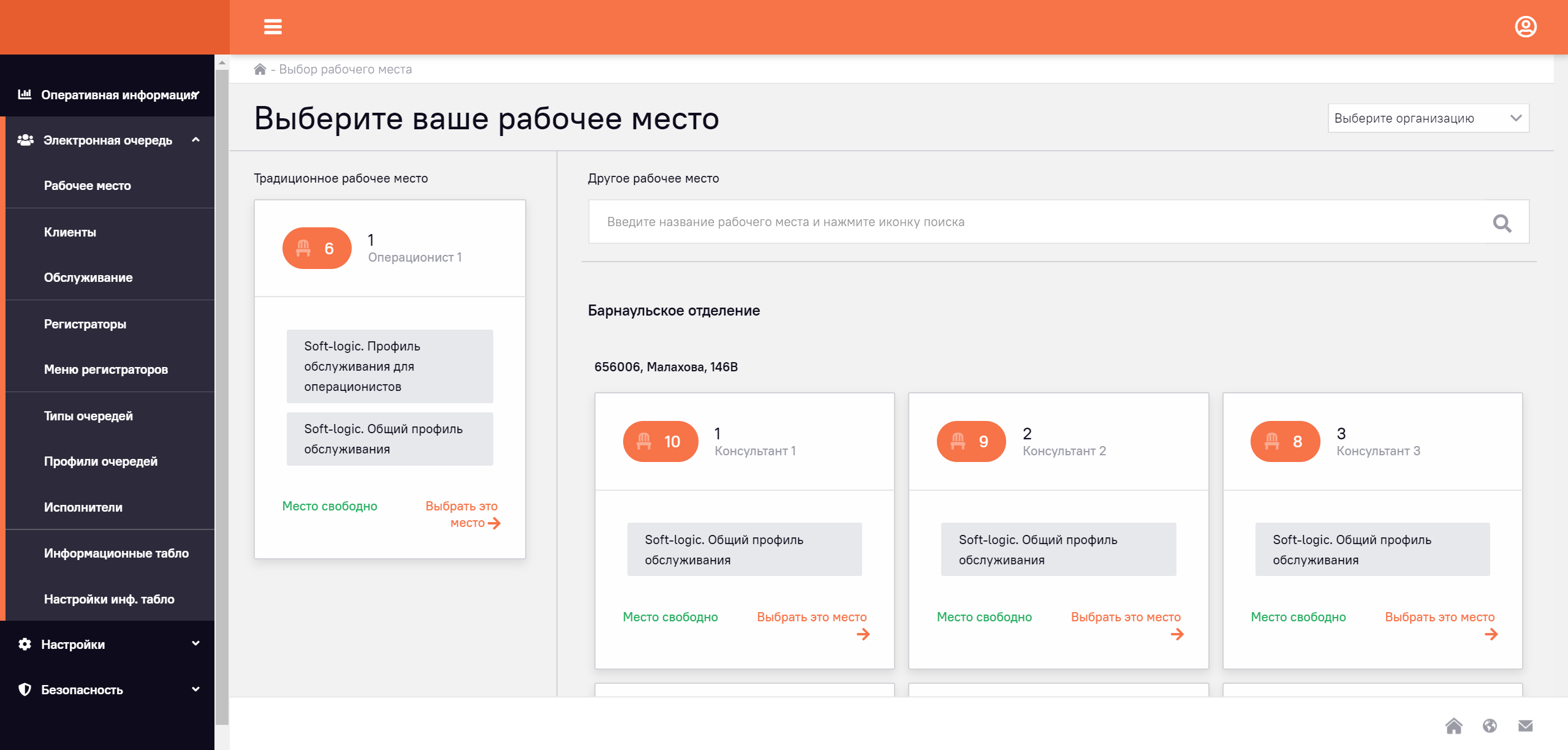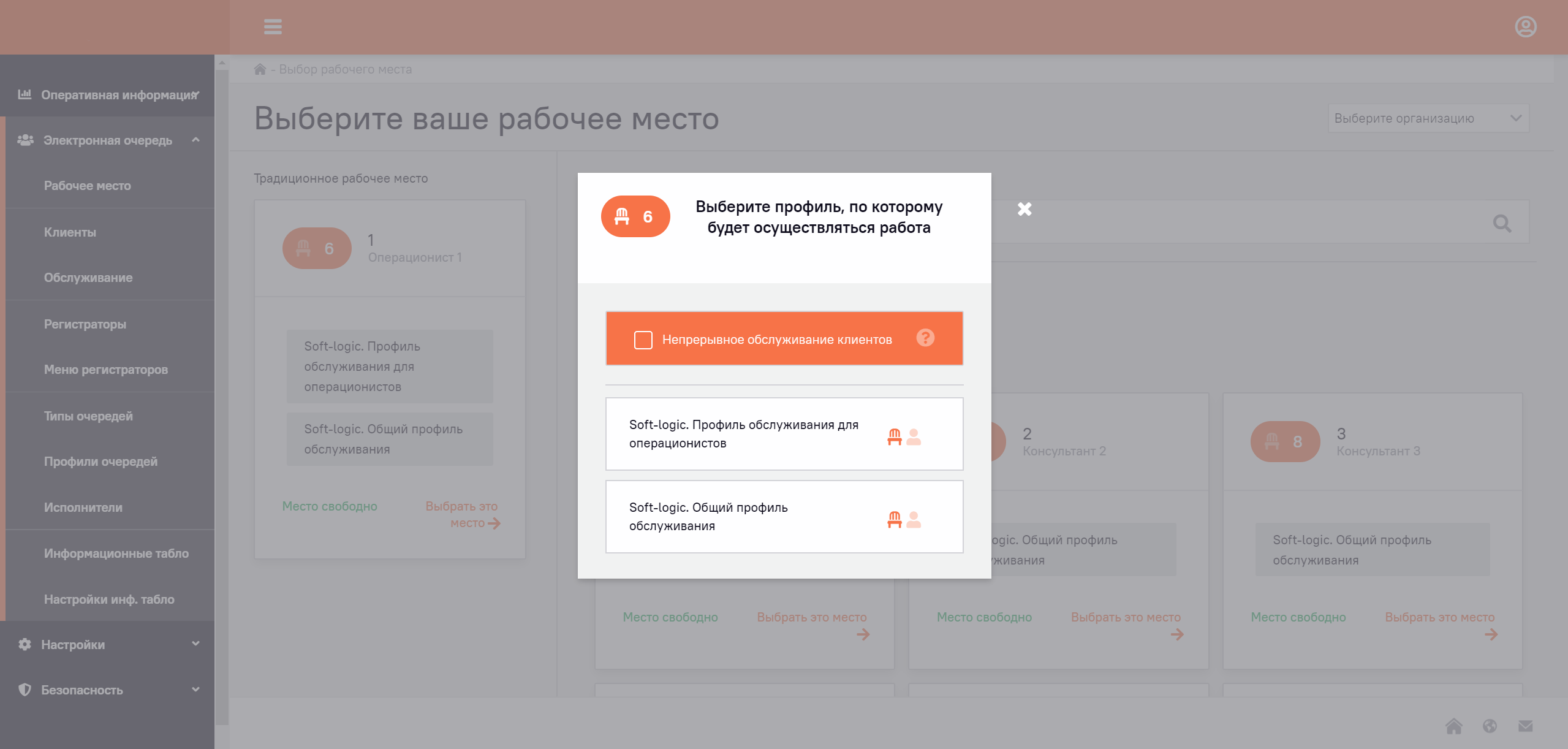 As a result of setting up the system in the back office, customers use ticket kiosks to receive ticket in a given direction (queue profile) with a prefix, wait for notification on the electronic display (additionally with a voice notification) and move to the operator's workplace.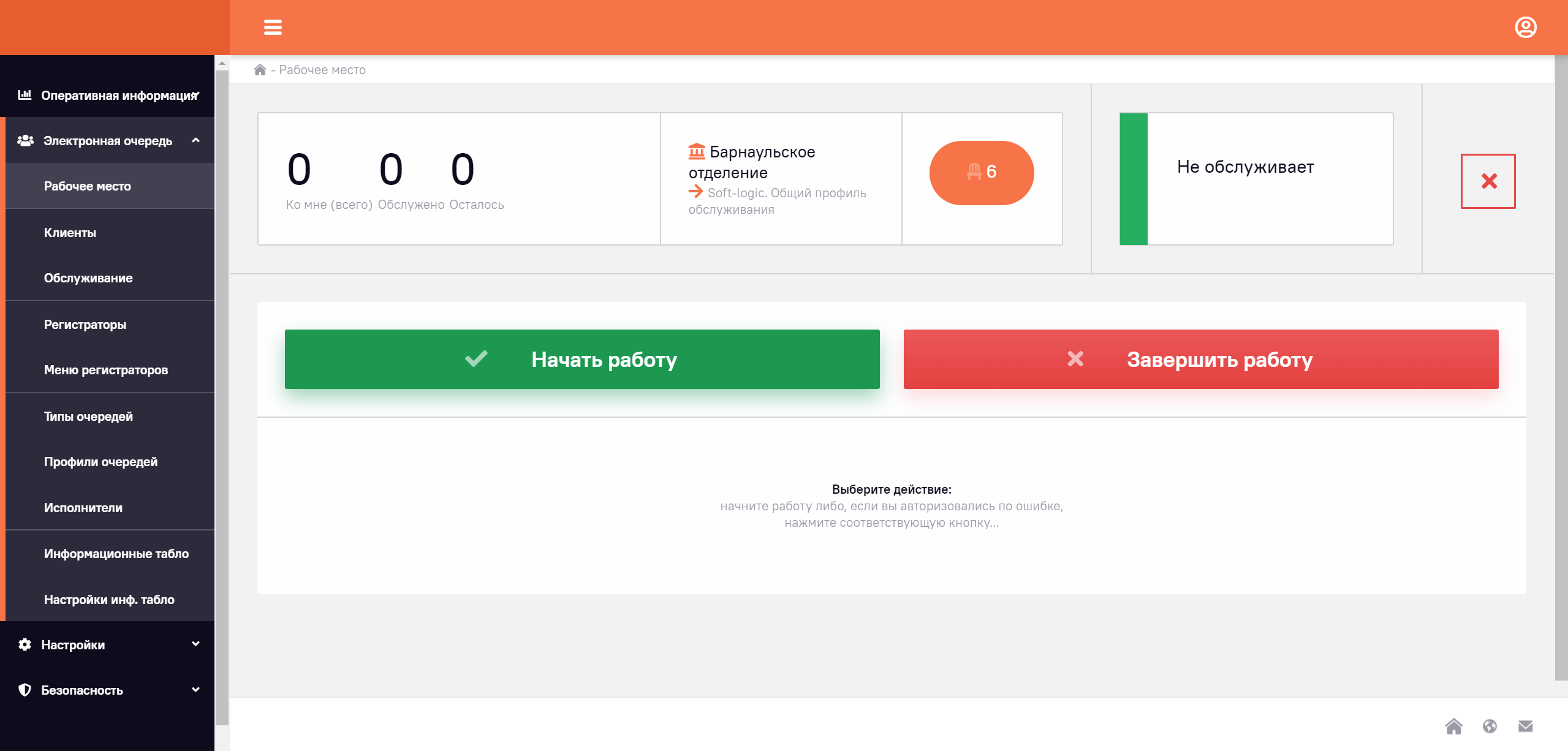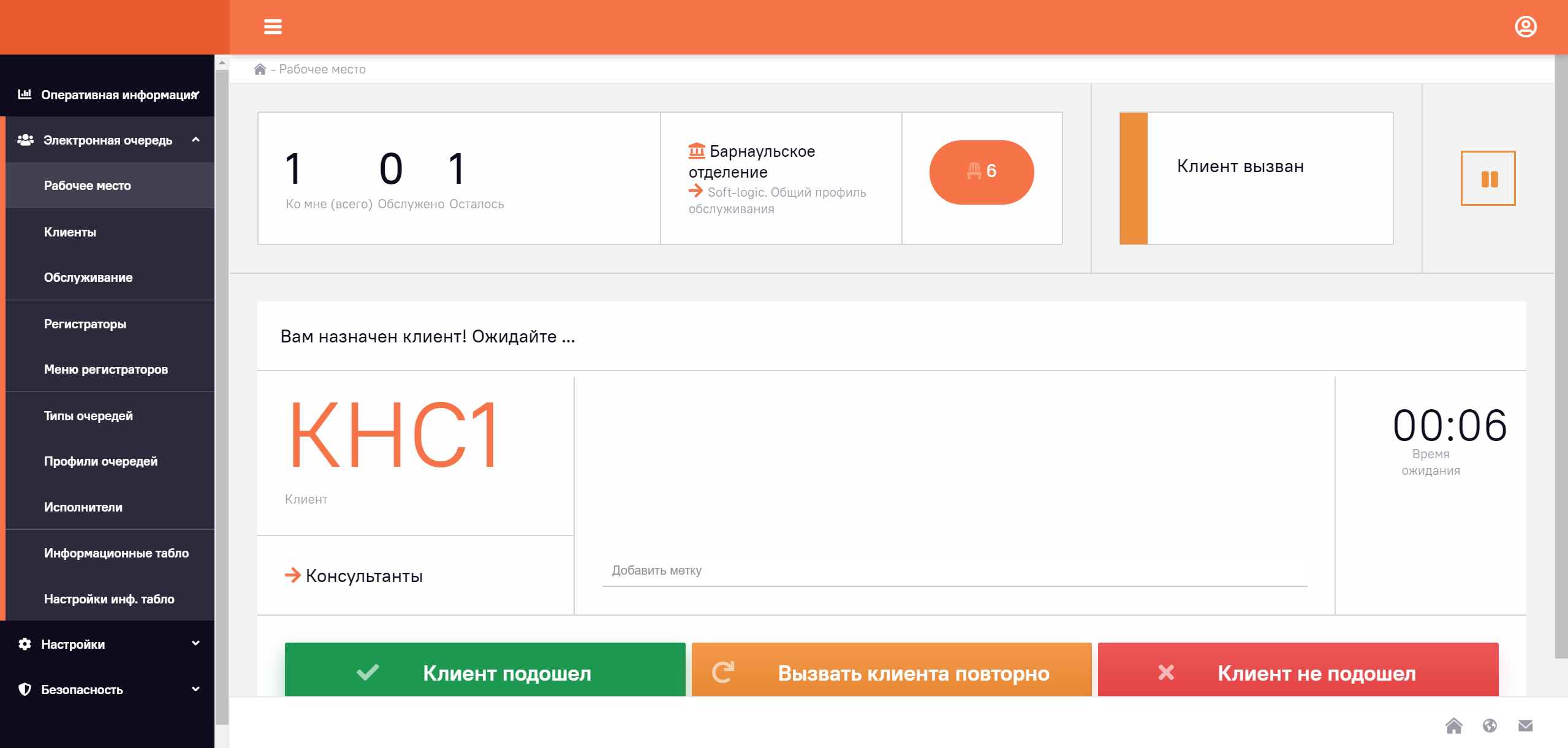 Total
Our electronic queue system basically meets the actual needs of most companies for solutions of this class. The complex has a large number of settings, taking into account the peculiarities of the work of organizations in various business areas.
The system allows adding new queues without software modifications, creating and editing the structure of the ticket kiosk's menu, formats for displaying the queue on electronic displays. If necessary, we are ready for additional modifications of modules and scenarios of the complex at request.
The solution is provided in cloud format with a monthly subscription, as well as a license for installation on the customer's server. The cloud electronic queue is suitable for small clients for permanent work or for large clients as testing all the functionality in the cloud format before purchasing a license.
Until the end of 2020, we offer all companies to connect 1 office (1 ticket kiosk, 1 electronic display, 2 operator's workstations) for 3 months free of charge to assess the functionality of the software.
Our company is also interested in presale events. If you have the possibility of introducing our electronic queue to the Russian or international market, we are ready to discuss the terms of cooperation.